Six Escape Room Tips to Help You Succeed at Your Game!
Posted by Ben Armstrong
Posted in Uncategorized
Posted : April 26th, 2018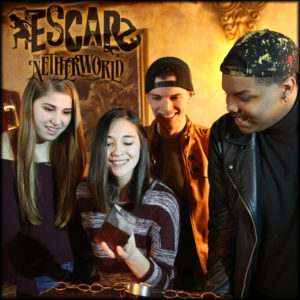 We have a few tips for how to make your escape room experience fun and successful. From first time escape room participants to experienced players, you'll want to make sure to focus on these suggestions:
1) Search Everything
Search everything! Look for clues behind, under, and inside everything in your room. At the beginning of your game, split the room into sections for different group members to search. This ensures every inch of the room is searched without sections being repeated or overlooked.
2) Communicate and Listen
Communicate with the rest of your group by yelling out everything you find in your search. By constantly communicating, your team will match related items together more quickly and increase your group's chances of beating the game. Just as important as communicating is listening. Listen to your game master and your fellow teammates. Your game master might drop some hints during their introduction and your teammates might have ideas that seems crazy to you, but might actually work. Be sure to also listen to the quieter players in your group, not just the loudest.
3) Divide and Conquer
In addition to splitting up your group to search for clues, divide your team when working on the puzzles. It is easy to be intrigued by a puzzle that one part of your group is working on, but you are wasting time that you could be spending on solving one of the other puzzles.
4) Stay Organized
Neatly organize any objects you find that you will need and make a discard pile of items you do not need. By separating your objects into these piles you will prevent your items from being mixed up, causing you to lose valuable time.
5) Ask for hints
Hints are a big part of escape games—that's why they are offered! If your team gets stuck, frustrated, or is no longer having fun—ask for a clue! For example, if you find yourself at a dead end for more than 5 to 10 minutes, ask for a hint. Don't equate asking for a hint with defeat. You want to solve the game before the clock hits zero, and the hint options are there to help you achieve that.
6) Don't forget to have fun!
Remember that it is a game. Yes, you are racing against the clock, but you will have more fun if you embrace the fun of the game and the time spent with your friends—not the outcome. As a matter of fact, some of our happiest and most satisfied teams are groups who didn't escape. Enjoy yourselves and have fun.
Escape the Netherworld Today
Test your teamwork and puzzle solving skills while using our tips to help you escape our Sasquatch, Nosferatu, or Haunted room! Contact us today at 678-580-5642 or book online now!