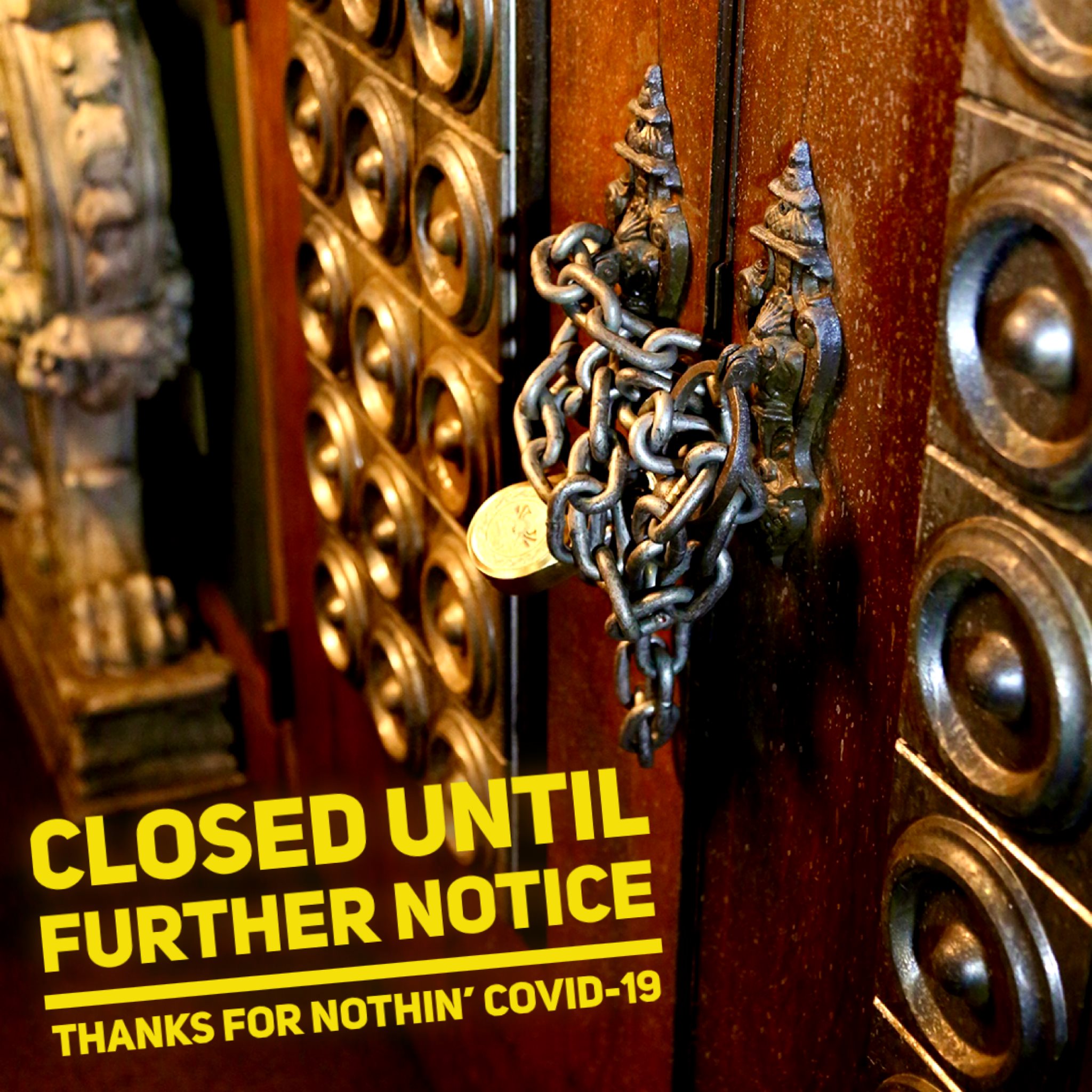 As a result of the ever-evolving developments of COVID-19, we have decided to temporarily close our Escape Rooms and Laser Arena. We will be monitoring the guidance of government and health officials to assess when best to reopen.
IF YOU ALREADY HAVE A RESERVATION for either Escape The NetherWorld or Netherworld Laser Adventure, one of our friendly Game Masters will soon be reaching out to you in order to determine the best remedy for your given situation…be that keeping your game as scheduled, issuing a refund, giving a credit for future game play or taking a wait and see approach for reservations that are many weeks away.
This was a very difficult, but necessary decision. We have been taking appropriate and aggressive measures to keep our environment safe for employees and guests alike, but it has become clear that even more extreme measures are needed to help stem the coronavirus tide.
We do hope that this is only a short term hiatus and that we'll all be able to return back to "normal" again sometime soon. In the meantime we're be working on plans for our 5th Escape Room…stay tuned, stay safe, stay healthy.
---
The health and safety of our attendees and staff is of the utmost importance to us and as such we'd like to fill you in on Escape The Netherworld's continued response to the Coronavirus (COVID-19).
Effective immediately, we will no longer be offering public games and are changing our pricing so as to not penalize patrons for having to play private games. In a private game environment, only you and your chosen group will partake in game play and no strangers can join your game. Previously, private game play required a 4 player minimum at $35 per person, but we are lowering this price to $28 (same price as public game play) for the required first 4 players and discounting the price even further to $22 for each additional player. Each game can accommodate up to 8 people.
All games must be booked online at least 90 minutes prior to the scheduled start time. Walk-in customers will be accommodated if a private room and game master are available, but can not be guaranteed. Walk-in customers will still need to pay for the 4-person minimum to play a room. It is hightly recommended that you book early online so that we may staff accordingly.
We have added extra measures to our already thorough cleaning regimen which includes disinfecting props, doorknobs and touch surfaces with high grade disinfectants. Each of our rooms is cleaned before and after each game.
In addition to our staff requirement of regular and thorough hand washing, all patrons will now be required to wash their hands prior to entering our escape rooms.
We are actively and continuously monitoring (via local/national authorities, public health advice, and CDC/WHO guidelines) the status of the COVID-19 Coronavirus outbreak and are prepared to close our escape rooms should such measures be deemed appropriate. If we do close in response to COVID-19, refunds will of course be made for those impacted by such a measure.
We know you've heard this all before, but here's some community guidance:
Be sure to frequently wash hands for 20 seconds and keep hands away from your face. Use an alcohol-based hand sanitizer that contains at least 60% alcohol if soap and water are not available.
Avoid touching your eyes, nose, and mouth with unwashed hands.
Cover your cough or sneeze with a tissue, then throw the tissue in the trash.
Avoid close contact with people who are sick.
Stay home when you are sick and call your doctor if you are experiencing fever, or other flu-like symptoms.
If you plan to travel, please refer to the CDC's travel advisories for updates.
For more information on COVID-19, we encourage our game-players to visit the following:
Sincerely,
The Escape the Netherworld Team
---
NETHERWORLD HAUNTED HOUSE EXPANDS YEAR-ROUND IMMERSIVE ENTERTAINMENT
OPTIONS WITH NEW LASER TAG ARENA AND FOURTH ESCAPE ROOM
With a Post-Apocalyptic Themed Laser Tag Battle Arena and Tiki Themed Escape Room,
NETHERWORLD Brings Even More Interactive Entertainment to Its Stone Mountain Location
ATLANTA: NETHERWORLD Haunted House, known worldwide for its legendary haunted houses, is adding to its year-round offerings on Saturday, August 3 with a new laser tag attraction and a fourth addition to its escape room games.
With the launch of Laser Adventure Battle Arena at NETHERWORLD, those seeking a live video game like experience can now find a new way to test their brains and athletic abilities. After moving to the larger, 9.5-acre Stone Mountain complex last year, the Atlanta-based institution, formerly located in Norcross for more than two decades, has expanded its attractions for thrill seekers and daredevil enthusiasts alike with the opening of its new laser tag arena.
Located at NETHERWORLD Haunted House, the post-apocalypse themed game will feature advanced laser tag battle rifles and a complex outdoor arena complete with mazes, forts, and other interactive elements designed to challenge players. Each battle can hold up to 24 participants, and the attraction, unlike the seasonal haunted house, will be open year-round. Competitions will primarily be held in the evening, which will enhance the eeriness and add to the thrill of the game.
"Our plan has always been to own a bigger venue and create an ever-growing entertainment complex for our guests. Now that we've been in our space for a year, we have been able to expand our year-round activities and offer even more options," said NETHERWORLD Co-Founder Ben Armstrong. "We saw the massive amount of space and thought it'd be perfect to create the ultimate laser tag arena. There's everything from complex mazes, abandoned buildings, video game style reward boxes and a huge variety of different battle modes that visitors are going to love!  As we near haunt season, we just might add some of our live monsters to the mix to up the scare factor. I think it'll truly be a great addition to the NETHERWORLD experience."
The battle arena will be open every Saturday night and available for special advanced bookings for events seven days a week. Those interested in booking can visit www.NetherworldLaser.com or call 678-580-5642 to reserve spots.  When haunt season begins, the hours will shift to be the same as those of the haunted house, and there will be a shorter 15-minute version of the laser tag attraction, which will be first come first served.
August 3 also marks the official opening of a brand-new escape room at Escape the NETHERWORLD. The new experience, titled Tiki Island: Attack of The Shark God! will be the fourth escape room at the venue and joins the trio of award-winning rooms that have already become highly respected in the escape game industry – Sasquatch: Bigfoot's Revenge, Nosferatu: Van Helsing's Secret, and Haunted: Curse of The Night Hag.
In Tiki Island: Attack of The Shark God! participants will forget they're in Georgia and will be transported to a beautiful island paradise, perfect for anyone who wants a different way to experience the retro tiki resurgence that has been growing throughout the country. At the beginning of the game, guests will arrive just before sunrise to a party hosted by an infamous archaeologist and surfer, Dr. Jake Graffenburg, on the Hawaiian island of Maui. However, they will quickly realize this isn't a typical beach luau. Instead, participants are plunged headlong into a raging battle between ancient Polynesian spirits. In order to restore the peace, the sacred artifact of Lono must be returned to its proper place before the evil shark god of Molokai summons a storm and drags everyone beneath the waves! Players will have one hour to solve uniquely themed puzzles and discover the many secrets of Tiki Island!
"We're really looking forward to entertaining even more people throughout the year, especially those who haven't previously visited us because haunted houses just aren't their thing," said Co-Founder Billy Messina. "Both the laser adventure and the escape rooms are perfect activities for birthday parties, corporate events, team building, and for just a good time with friends.  We've seen many of the same devoted fans over the years at our haunted house, but now we're excited to welcome a whole new crop of fun-seekers who've yet to experience our unique brand of entertainment."
The Escape Rooms are open Fridays 5:30pm-11:00pm, Saturdays 3:30pm-11:00pm, and Sundays 3:30pm-9:00pm. For more details and to buy your tickets, visit www.escapethenetherworld.com. A minimum of two players is required to play. NETHERWORLD recommends at least four people take on the challenge, and no more than eight may take part in any one game. Special larger bookings are also available upon request.
About NETHERWORLD Haunted House:  NETHERWORLD, Atlanta's most popular self-guided, dark attraction, is one of the most highly-acclaimed Haunted Houses in the world. Known for its over-the-top special effects, unique make-up, elaborate costuming, skilled stunt actors and unusual themes, NETHERWORLD has established itself as an Atlanta Halloween tradition. Since the attraction first opened 23 years ago, NETHERWORLD has been voted the top haunt in the nation by publications such as Hauntworld Magazine, Dread Central, Fangoria and USA Today and has been recognized both locally and nationally by media including CNN, The Today Show, The Early Show, The Travel Channel and Wall Street Journal. Every season, this innovative horror experience continues to draw in generations of thrill-seekers eager to see what new nightmares have been unleashed! For more information, visit www.fearworld.com or call 404-608-2484. Keep up with all things spooky by following NETHERWORLD Haunted House on Facebook, Instagram, and Twitter.
---